Get Whole-home Coverage and the BLAST!
Advanced Managed Wi‑Fi with the BLAST brings next generation smart home technology with powerful Wi‑Fi 6 to every corner of your house. Dual-band Wi‑Fi 6 allows you to experience advanced high-performance dual bandwidth for all your devices on both the 2.4GHz and 5 GHz bands.
Wi‑Fi 6 Is Here
Helping you connect deeper around the house.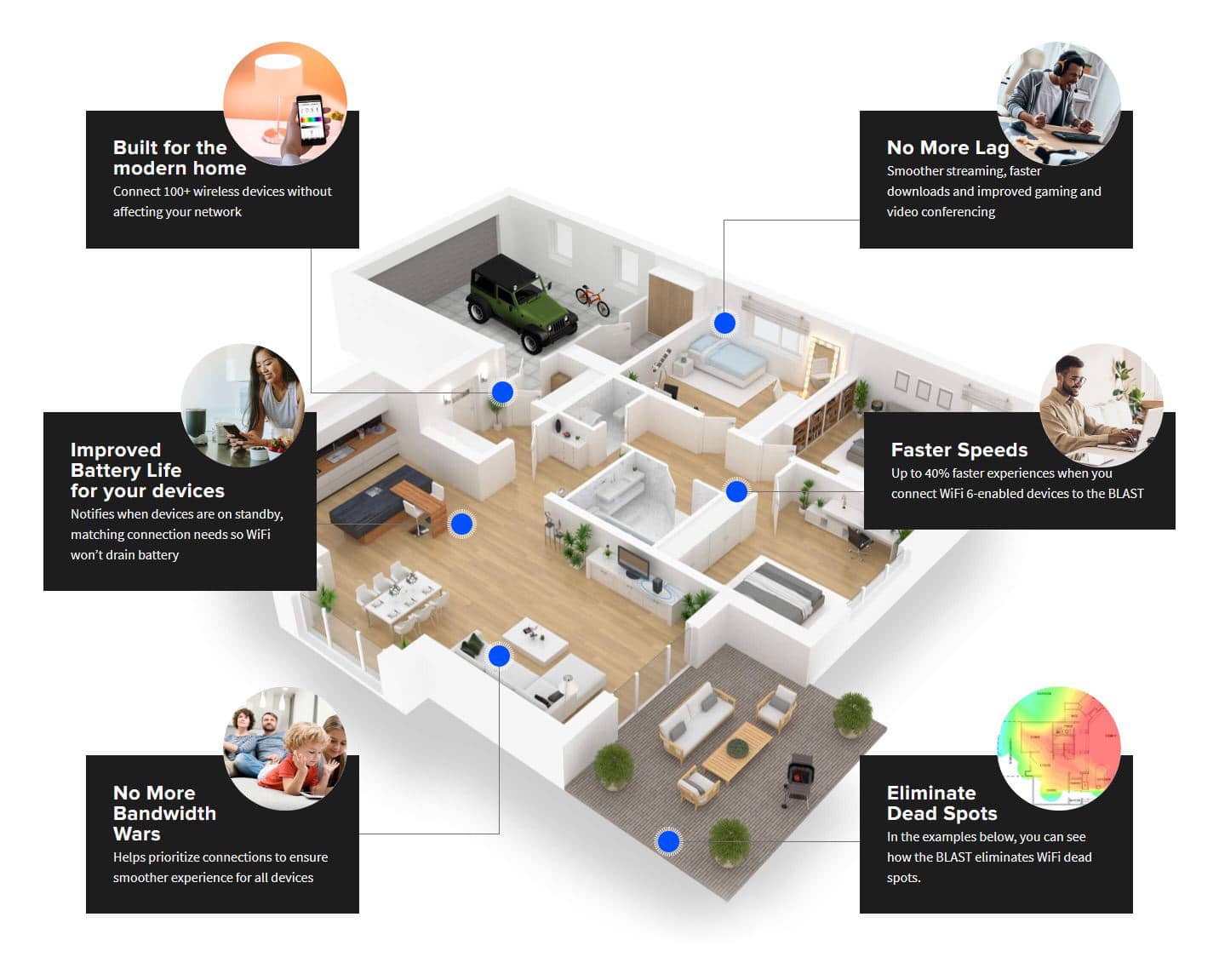 Advanced Managed Wi‑Fi
Managed Wi‑Fi
Next generation wireless router with powerful Wi‑Fi 6 that's optimized for performance in the smart home
✓
(Standard Router)
Free repair and replacement
✓
✓
Remote support
✓
✓
Wi‑Fi assessment
✓
✓
Device connection assistance (up to 10 devices)
✓
✓
Software upgrades for optimal Wi‑Fi performance
✓
✓
Wi‑Fi 3, 4, & 5 (802.11g, 802,11n, 802.11ac)
✓
✓
Wi‑Fi 6 (802.11ax)
✓
Smart Home App with basic parental controls
✓
✓
Option to add on advanced parental controls
✓
Network security
✓
Provides longer range and is less affected by interference from other nearby Wi‑Fi gateways
✓
Upgraded performance in environments with many connected devices (connects over 250 devices)
✓
Improved battery life efficiency in Wi‑Fi devices
✓
Lower latency for high demand devices
✓
+ $9.95/mo
Upgrade with 100 Mbps internet
Included with 250 Mbps internet
Not available with 25 Mbps internet
Included
With 25 or 100 Mbps internet

Expand Your Coverage with Extended Wi‑Fi
There's a lot more to your property than can be contained with the four walls of your home. Maybe you've created a private office (or man cave) over the garage. Or perhaps you just like surfing the internet from your front porch. Extended Wi‑Fi extends the reach of your signal to let you enjoy your internet connection from anywhere on your property that you feel most comfortable.
$
19
.
95
/
mo
Some restrictions apply. Must have SCTelcom Internet with minimum of Streamer / Gamer package. Must have line of site from house to out building. One time $50 installation fee applies. Contact us for details.
New Internet Customers
Choose your internet plan and upgrade to Advanced Managed Wi‑Fi or add Extended Wi‑Fi.
Existing Internet Customers
Upgrade to Advanced Managed Wi‑Fi or add Extended Wi‑Fi to your existing SCTelcom internet plan.